2021 Asheville Fall Color Forecast and Things to Know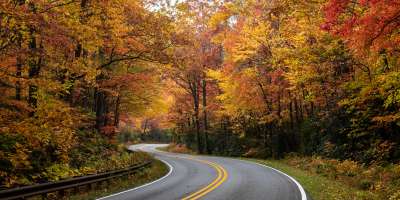 Make sure your camera is ready, hug a mug of pumpkin spice and get ready for leaf peeping season in the Blue Ridge Mountains! Adding to the excitement in 2021, conditions are on track for a colorful fall, according to local biologists. And, you may have a few extra days to enjoy the color display this year -- read why below!
Every year, the Asheville area enjoys one of the longest and most colorful fall leaf seasons in the country, thanks to more than 120 tree species, a temperate climate and a wide range of elevations.
Asheville Fall Color Forecast: What the Experts Are Saying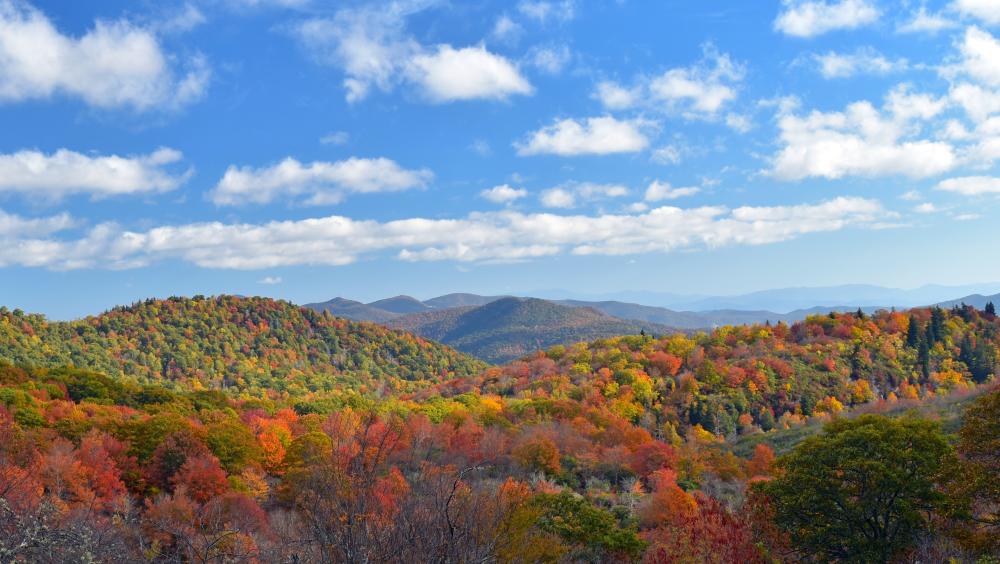 What's the key to having colorful leaves in fall? Experts point to a combination of factors.
"As we get into October, having warmish days and crisp, cool nights helps to trigger the production of anthocyanins, the compounds that make the vibrant red colors," said Dr. Jonathan Horton, a UNC Asheville Professor and Department Chair of biology. "The other colors, yellows and oranges, are from the breakdown of green chlorophyll and the exposure of other pigments (carotenoids)."
Should conditions remain on track, Dr. Horton predicts we will start seeing color at the highest elevations of the mountains (above 6,000 feet) by mid-to-late September. You can reach these high elevation areas with less than an hour's drive from Asheville. In the city of Asheville itself and surrounding lower elevations, colors will be strongest in October depending on conditions.
Right now, the conditions are looking good, says Dr. Howard Neufeld, an Appalachian State University biology professor known as "The Fall Color Guy." He notes that our area didn't experience the same kind of warm weather extremes that other parts of the country saw this summer.
"We've had a pretty moderate summer, so the trees aren't so stressed," Dr. Neufeld said.
Neufeld does predict that some warmer fall temperatures brought on by La Niña in the Southern Hemisphere could provide a four-to-five day delay in leaf development, giving you some additional time to take in the colors.
How to Experience Fall in Asheville, NC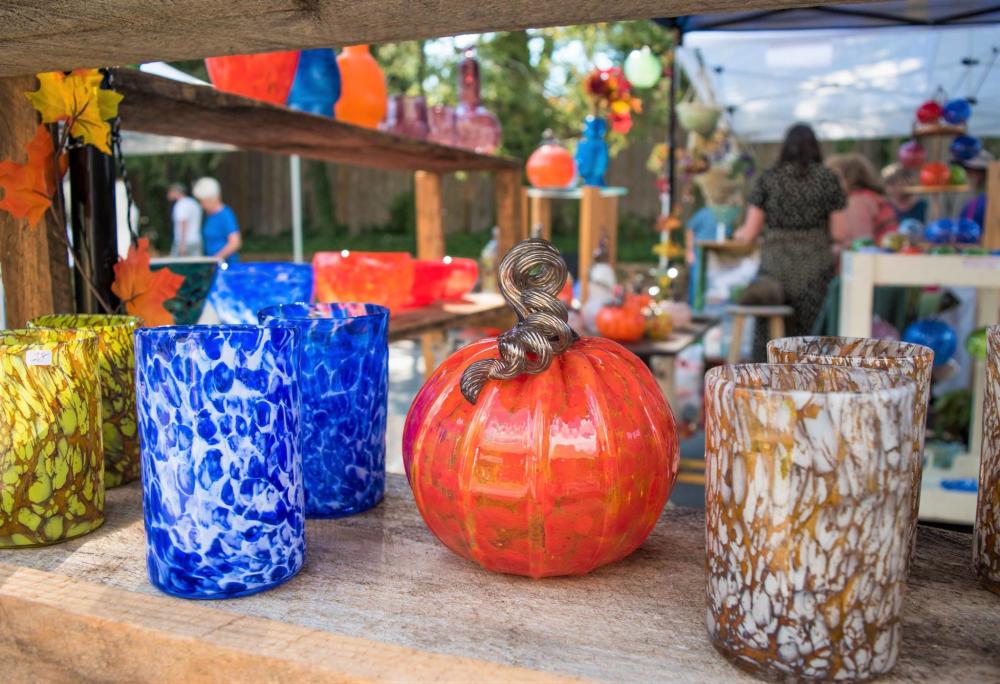 If you think you've experienced fall in Asheville, just wait until you see all that's new in town for the season. Among the experiences: A Van Gogh exhibition comes "alive" at Biltmore, a new street art adventure takes shape, and an eco-focused hotel opens with skyline views. Discover all of What's New in Fall 2021 in Asheville.
As you explore the beautiful colors, be sure to add a little "green" to your fall. Help minimize your impact while visiting the Blue Ridge Mountains with eco-friendly options to catch the color: "Top 10 Green Ways to Experience Fall in Asheville." Along these lines, show some love to the Blue Ridge Parkway, America's Favorite Scenic Drive! We've teamed up with Pledge for the Wild, a stewardship initiative with a mission of preserving and protecting incredible natural places. Any money you donate will benefit the Blue Ridge Parkway Foundation, which protects and preserves natural, cultural, and historical treasures. It's a chance to be part of something special: Explore Asheville is the first and only Pledge for the Wild partner on the East Coast. Click here to donate.
And, plug these dates into your calendar! Autumn in Asheville brings a schedule of events that feature celebrations of crafts, harvest, and music. Check out our at-a-glance guide to the Top Fall Events and Festivals in Asheville.  
Things to Know about Fall in Asheville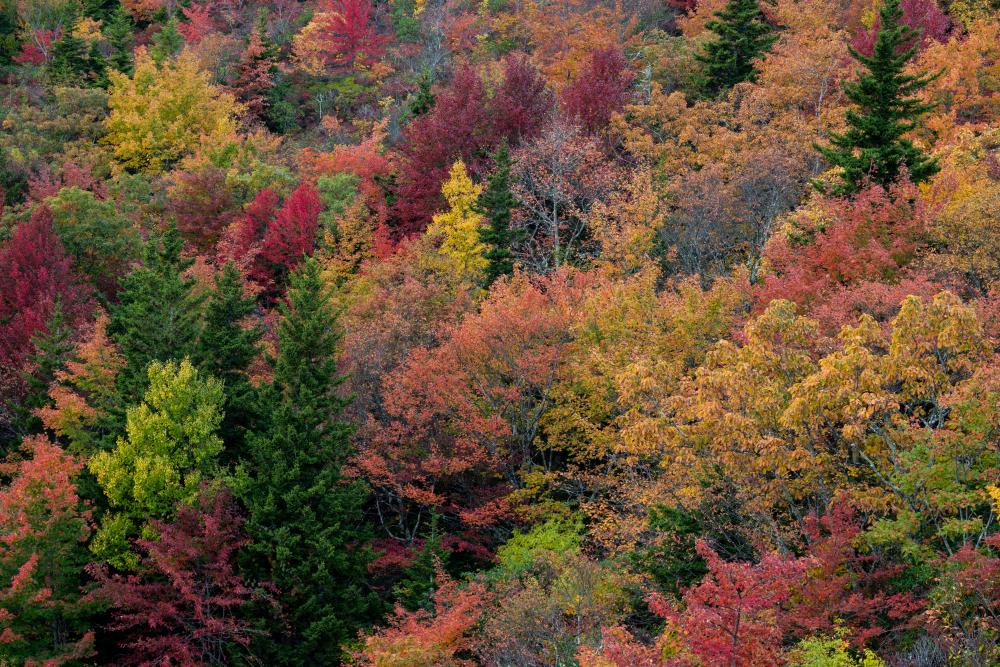 Elevation Matters: Western North Carolina's elevations range from 1,500 to 6,684 feet at Mount Mitchell, the highest peak east of the Mississippi River. The color change starts at the peaks and makes its way down the mountains, resulting in a fall color display that can last five or six weeks, beginning around the end of September. So, if you miss fall color at one elevation, check the next elevation down!
The Trees are Diverse: Whereas New England is known for its birch, beech and maple trees, Southern Appalachia is home to more than 120 species of deciduous trees, presenting a much larger variety of changing colors. Dr. Neufeld's standouts include, sourwoods, maples, red and scarlet oaks, dogwoods and sweet and black gums all reveal showy shades of red; tulip poplars, birches, beeches and chestnuts turn yellow; sassafras can turn red, orange or yellow; and the Fraser magnolia turns a lovely chocolaty brown.
Where to See the Leaves: The Blue Ridge Parkway offers the perfect vantage point with an array of scenic overlooks. The scenic drive allows easy access to the high elevations for early color change as well as the ability to take in the color descending the mountains and valleys a little later in the season. Visitors looking for a bit more solitude can check out these lesser-known Asheville-area hikes for beautiful fall color.
You can access our Weekly Fall Color Reports: We help you find the best leaves each week and provide other key information in our weekly fall color updates. Be the first to receive the latest from the mountains by signing up for our fall color email. You can also view our weekly fall color updates, fall foliage map and adventure ideas on our fall page.
Safety and COVID-19 Guidelines in Asheville
Asheville and Buncombe County are committed to your safety during the pandemic. Current local guidelines require masks to be worn inside public places, and outdoors where social distancing isn't possible. For more information on the steps our local businesses are taking to keep you safe and the shared responsibility of our guests, please see the Asheville Cares Stay Safe Pledge.