2017 Solar Eclipse Events Near Asheville, N.C.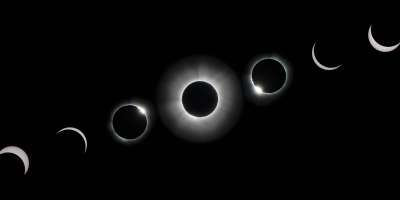 For the first time in 38 years, a narrow band of the United States will have the incredible opportunity to witness a total solar eclipse. Asheville lies on the edge of that narrow band, making it the perfect home base for experiencing this spectacular natural phenomenon on Monday, August 21, 2017. Asheville will see a 99 percent eclipse and is just 50 miles from the "path of totality," where there will be a 100 percent eclipse. For places in the path of totality, the sky will go dark and you'll be able to see stars in the middle of the day (approximately 2:35 p.m. depending on location).
LEARN MORE: See our guide on the 2017 Solar Eclipse for more information.
Asheville and the surrounding communities will have big celebrations to help you make memories of this celestial event. With so much going on in town in the days leading up to the eclipse, you'll want to stay in Asheville and enjoy an exciting weekend before the big event Monday.
PACKAGES: DoubleTree, Hilton-Biltmore Park, and Shoji Spa all offer special eclipse packages. For more details information visit our Packages and Deals page.
Here's a look at what's planned throughout the mountains and ideas for where to watch the Great American Eclipse.
Asheville and Black Mountain
Asheville's Solar Eclipse Festival
August 21, 2017 – Noon-3 p.m.
In the heart of downtown Asheville on eclipse day, join in the festivities in Pack Square Park with music, food, hands-on eclipse-related activities. You can also cool off in the Splashville fountain. Eye wear for safe eclipse viewing will be available and will be distributed until supplies run out. The event is free. Buncombe County Schools will host three satellite viewing locations – Owen High School, North Buncombe High School, and TC Roberson High School.
Highland Brewing Company Rooftop Eclipse Viewing Party
August 21, 2017 – Noon-5 p.m.
One of Asheville's newest rooftop bars offers you the chance to witness the eclipse Beer City USA-style. Grab a pint and watch from the rooftop deck at Highland Brewing Company or in the grassy meadow. The rooftop bar is for those 21 and older. The Meadow is family-friendly.
From Noon until 4 p.m., party at Sierra Nevada with great food specials, great beer, and special music guests. Sierra Nevada Brewing's Asheville/Fletcher location will experience a 99 percent blockage of the sun. Admission is free.
Rock the Eclipse in Black Mountain
August 19-21, 2017
Historic downtown Black Mountain will host events all weekend leading up to a party with the Big Deal Band on Town Square to watch the eclipse Monday afternoon. Black Mountain will experience a 98.9 percent eclipse. Festivities begin Friday, August 18, with an outdoor movie on Black Mountain Ave. at dark. On Saturday, join in the evening Wine Walk beginning at The Merry Wine Market.
Other Events
The Asheville calendar is filled with plenty of things to see and do during the weekend of August 18-20. Here are a few popular festivals to check out.
Surrounding Areas in the Path of Totality
Mountains
Among the best places to view the 100 percent eclipse will be mountain tops, balds, and other high elevation spots. A southern stretch of the Blue Ridge Parkway from milepost 418 to milepost 469 falls in the path of totality. Well-known destinations like Graveyard Fields, Black Balsam, Sam Knob, Devil's Courthouse, and Waterrock Knob are all on this stretch. There are 17 overlooks in the path of totality that are east facing with open views and paved parking. 
Other notable mountain sites in the path of totality include John Rock in Pisgah National Forest, Wayah Bald and Wesser Bald in Nantahala National Forest, and Whiteside Mountain near Cashiers. These will likely be very popular places to be on August 21, so remember to arrive early (by noon, if you can) at your eclipse viewing location of choice and plan accordingly for both traffic and crowds.
Lakes
Three large, publicly-accessible lakes in Western North Carolina fall will have a view of a 100 percent eclipse: Lake Glenville (70 miles from Asheville), Fontana Lake (87 miles from Asheville), Lake Santeetlah (99 miles from Asheville).
Sylva
One of the largest communities in the path of totality will host events throughout the weekend and then will throw a big celebration of the day of the eclipse. That celebration begins at 11 a.m. with live music. Astronomy experts host talks and demonstrations leading up to the eclipse.
Brevard
Among the celebrations in Brevard on eclipse day is the Social Eclipse Party at Oskar Blues Brewery. Oskar Blues with have live tunes all day, a bouncy house, and will give out complimentary special eclipse glasses. Leading up to the eclipse, the Cradle Forest of Forestry, will host a solar eclipse celebration on Saturday, Aug. 19 from 11 a.m. to 3 p.m. The Power of the Sun event will celebrate the many ways forests and ecosystems rely on the sun.
Dillsboro
The small town of Dillsboro will throw a family-friendly party in Monteith Park. A free shuttle will run to shops and restaurants.
Cashiers
Nearby Gorges State Park gears up for the eclipse with three days of free activities. The park will close Monday when capacity is reached (1,400 cars) so arrive early. In Cashiers, the Village Green will have food trucks and live music 12-4 p.m. Monday.
Bryson City
Downtown Bryson City turns into a block party Monday afternoon with live music and specials at local shops.
Cherokee
The eclipse has cultural significance for the Cherokee Indians. The name Cherokee people have given to eclipses translates into "The frog eats the sun/moon." This name refers to the traditional belief that the eclipse is caused by a giant frog swallowing the sun or moon. Warrior Dancers, storytellers and craft demonstrators will share their talents with guests in Cherokee at the Fairgrounds and Museum of the Cherokee Indian. Tickets are $25.  
*Please note: Events at Pisgah Astronomical Research Institute (PARI) and at Clingman's Dome in Great Smoky Mountains National Park have already sold out.
Photo credits: Total solar eclipse sequence by Rick Fienberg / TravelQuest International / Wilderness Travel. Maps courtesy of GreatAmericanEclipse.com
Updated July 13, 2021