2017 SoCon Tournament Events in Asheville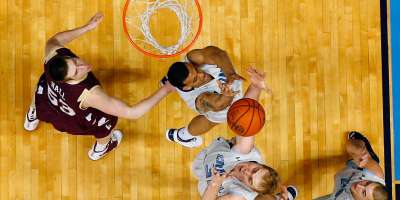 Southern Conference Tournament in Asheville, North Carolina: March 2-6, 2017
March Madness begins in Asheville! The 10 teams of the Southern Conference battle for five days at Asheville's U.S. Cellular Center as they compete to claim a spot in the NCAA Tournament. While there will be plenty of excitement on the court, the SoCon and Asheville have teamed up to bring fans a wealth of experiences in town that also will help local communities.
Mission Health and Wellness Day
Friday (March 3) marks Cancer Awareness Day at the U.S. Cellular Center. Fans will have access to information about cancer prevention, screening and treatment. The day will also feature special tributes to cancer survivors. Early in the day, the SoCon mascots will visit the children at Mission Children's Hospital to bring team spirit and smiles.
Downtown Dribble & KidsFest
Pack Square in downtown Asheville hosts KidsFest from 9 a.m. to 11 a.m. Saturday (March 4), an outdoor pep rally featuring games, cheerleaders, bands, and mascots. As soon as KidsFest ends, Downtown Dribble tips off (11 a.m.) with kids participating in a dribble parade from Pack Square to the front door of the U.S. Cellular Center. Those who participate receive a free T-shirt, basketball, and free admission to the men's quarterfinal session that begins at noon. You can pre-register or register the day of the event.
SoCon Teddy Bear Toss
Test your arm with the 2017 SoCon Teddy Bear Toss! Make a donation and receive a stuffed animal to throw on the court Saturday at noon during the Toss. The bears and donations will go to Mission Children's Hospital to help kids visiting the hospital for treatments. There are 1,500 bears available.
Celebrate Asheville Day and Ingles JAMFEST
The SoCon celebrates Asheville on Sunday (March 5), Lonely Planet's top travel destination for 2017, with a day-long tribute to the community. The celebration leads up to Ingles JAMFEST, an outdoor tailgate party from 2:30 p.m. to 4:45 p.m. outside of the U.S. Cellular Center. Hometown headliners Lyric and Joe Lasher Jr. rock the stage. JAMFEST will also feature local food trucks and craft beer and will benefit Eblen Charities' "Hoops Against Hunger" project.
Hometown Heroes Day
The final day of competition, Monday (March 6), will honor the men, women and organizations that help enrich the community and work to keep people safe each day. During the tournament championship game, which begins at 7 p.m., SoCon will recognize members of the military, fire, police, emergency services, charitable organizations, government and civil service.
Hoops Against Hunger
Throughout the tournament bring an approved food item to the U.S. Cellular Center or one of the official host hotels and receive $5 off a single-session ticket for any tournament session. Donations will be distributed at local schools through Eblen Charities' "Hoops Against Hunger" program.
Photos courtesy of the Southern Conference.