Turkey or Chicken Vegetable Tortellini Soup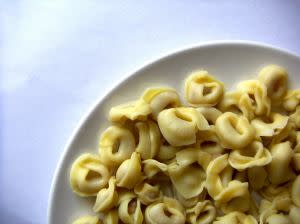 from Crooked Oak Mountain Inn
Ingredients

1 large, or two small, turkey or chicken carcass
Chicken bouillon
1 can tomatoes - peeled and diced
3 zucchini - sliced in ¼-inch sized pieces (not peeled)
2 ½ pounds carrots - sliced or chopped
1 medium onion - diced
6 to 8 celery stalks - diced
2 tablespoons fresh parsley - chopped
Coarse salt and fresh ground pepper to taste
1 tablespoon dried basil or 3 tablespoons fresh basil - chopped
2 teaspoons garlic powder
2 bay leaves
2 nine-ounce packages of cheese tortellini
Preparation
Combine carcass with water and chicken bouillon and bring to a boil.
Reduce heat and simmer for three hours.
Remove bones and add meat to broth. Add all remaining ingredients except tortellini and simmer until vegetables are tender.
Remove bay leaves. Add the tortellini and cook for 15 minutes. If freezing the soup, add tortellini when serving.
This recipe makes eight quarts.