Follow First Couple's vacation itinerary from the White House to Biltmore House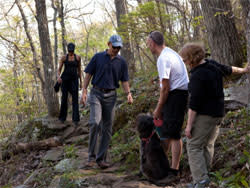 If you're planning a summer vacation, you could do worse than following in the footsteps of an American President. Vacations are front and center these days with the summer travel season just around the corner and news of President and First Lady Obama's weekend getaway to Asheville in the Blue Ridge Mountains.
To view the multimedia assets associated with the release, please click here.
Historic Presidential Vacation Spots
Obama's vacation destinations have followed presidential traditions with a retreat to Martha's Vineyard and jaunts to his native Hawaii and home in Chicago. This spring, he joins presidents who have found respite on this uncommon ground:
President Obama in Asheville:
"The president first visited the Asheville area during the campaign, and he liked it so much that he vowed to take his family there. The president and first lady are planning to spend a quiet weekend enjoying some of the many things this beautiful part of the country has to offer," said White House spokeswomen Moira Mack.
DAY ONE: Friday, April 23
DAY TWO: Saturday, April 24
Travel Packages:  In the Footsteps of Presidents
Background
Since the 1800s, America's jet-set has been drawn to the scenic beauty of the Blue Ridge Mountains, making Asheville their hub to soak in resort culture and healing mountain air. Literati, celebrities, presidents and titans of industry made seasonal jaunts leaving a lasting footprint on the city, most notably George W. Vanderbilt who made Asheville the backdrop for his architectural passion by building America's Largest Home, Biltmore. This history of culture, innovation and natural inspiration permeates the Asheville of today through a diverse art scene, 200+ independent restaurants, ten craft breweries, and scores of galleries and boutiques framed by more Art Deco architecture than any city outside of Miami. ExploreAsheville.com 
Multimedia
Media Contact
Dodie Stephens, Asheville Convention & Visitors Bureau, 828.257.4959, dstephens@exploreasheville.com, @AshevilleTravel