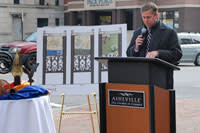 After nearly three years of community input, planning, design and collaboration, the Partnership on Wayfinding and the Buncombe County Tourism Development Authority (BCTDA) today unveiled the first wayfinding sign downtown on Patton Avenue as installation begins on a $1.65 million community-wide signage program.
"As a world-class travel destination, we share the Asheville area with more than 2.9 million overnight leisure visitors each year. The wayfinding program is a tool to further our economic vitality by leveraging and showcasing the attributes that this community has worked so hard to develop, enhance and protect," said BCTDA Chair Ron Storto who is also the VP of Hospitality Development at Biltmore Farms Hotels.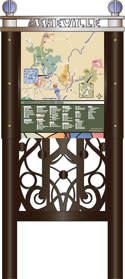 Total cost of the program including design, master plan, sign fabrication and materials, as well as installation is more than $1.8 million. The City of Asheville and Buncombe County each contributed $75,000 and $25,000 respectively to the design and master plan along with smaller financial contributions from the towns of Weaverville, Woodfin, Montreat and Black Mountain. The Asheville Regional Airport also contributed to the plan.
BCTDA dedicated $1.65 million for sign fabrication and installation costs for the project through its Tourism Product Development Fund (TPDF), including a commitment of $150,000 for the long-term maintenance of the wayfinding program. The City of Asheville contributed an additional $90,000 in order to include more extensive parking identification.
More than 300 sign elements will be installed throughout Buncombe County in coming months, directing visitors and residents alike to nearly 90 attractions, public spaces, historic sites and destinations. Installation will take roughly 10-12 weeks and is slated for completion in mid-February or early March.
The comprehensive signage program includes:
240 vehicular signs;
26 pedestrian signs;
40 parking identification signs, banners and garage entrance/exit signs;
10 gateway/district identification signs;
13 three-sided information kiosks with maps and interpretation panels (eight in downtown Asheville and one each in West Asheville, Biltmore Village, Woodfin, Weaverville and Black Mountain);
and three gateway and district monuments.
"The implementation of a comprehensive wayfinding system has been a key goal of city council's strategic operating plan to help make Asheville safe, sustainable, affordable, green and fiscally responsible," added City of Asheville Mayor Terry Bellamy. "A strong wayfinding program can also lead to an increase in retail sales which would provide additional revenue that benefits our business owners and residents, as well as provides sales tax dollars to local government to better serve our constituents."
In 2006, the City of Asheville and BCTDA identified a need for a comprehensive and effective signage program that would better assist residents and visitors as they navigate the community. A series of public input sessions outlined wayfinding opportunities that could lead to stronger visitor satisfaction, increased spending, extended stays and repeat visitation, adding a boost to the local economy.
The Partnership on Wayfinding (POW) Task Force was formed to oversee development of the project. POW is comprised of representatives from the Asheville Convention & Visitors Bureau, City of Asheville, Asheville Downtown Association, NC Department of Transportation, Asheville Regional Airport, and the towns of Black Mountain, Weaverville, Montreat and the Asheville Regional Airport.
The Task Force contracted with the architectural firm MERJE in Philadelphia, PA to assist with the master plan and design elements. Following a bid process, L& H Companies in Reading, PA was chosen for fabrication and installation. Mattern & Craig, a local engineering firm provides construction oversight.
"With a foundation of destination research, extensive community input and guidance from tourism industry leaders, this partnership of public entities has developed a program that goes beyond directional signs, maps and parking info," said ACVB Executive Director Kelly Miller. "The Asheville Area Wayfinding Program captures the essence of the destination, warmly welcoming our visitors with vibrant artistic details, inspiring suggestions, enriching cultural context and useful information."
Unique design elements, locally-produced artisan elements, and historical and literary allusions were incorporated to reflect the local culture.
Three Buncombe County artists were selected from a public request for proposals to create six decorative finials to adorn the top of each vehicular sign. Fourteen Western North Carolina authors are featured and quoted on the back of vehicular signage in Asheville and outlying Buncombe County. The back of signs in Black Mountain, Woodfin and Weaverville showcase iconic elements chosen by their communities.
The local artists commissioned for the finials were Kathleen Doyle and Thomas Reardon of Portfolio Metalwork in Grovewood Gallery, Dan Howachyn of Black Mountain Iron Works and Robert Gardner of Studio C Glassworks in the River Arts District.
Tourism product funding is generated through room tax collected from overnight visitors that stay in Buncombe County hotels, bed & breakfast inns and cabins. One fourth of the four percent room tax is dedicated to bricks and mortar projects that will increase room nights and ultimately have an economic impact on the region.
More than 2.9 million overnight leisure visitors travel to the Asheville area each year generating more than $1.8 billion in economic impact to the region. Since the TPDF legislation was passed in 2001, 12 projects have received nearly $12 million in funding.