French Silk Chicken and Mushroom Soup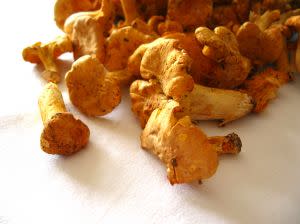 from Linda Carter of Southside Café

Ingredients:
4 sliced button mushrooms
4 cups of roast chicken removed from the bone and diced
1 large shallot
4 tablespoons oil of clarified butter
1/2 cup sherry
1/2 cup cognac
1 quart chicken stock
1 quart heavy cream
2 tablespoons chopped fresh tarragon
1 cup sour cream
Seasoning to taste
1/4 cup of oil or clarified butter
1/4cup flour
Instructions:
Heat the butter or oil in a heavy stockpot and add the sliced mushrooms, allow them to caramelize before adding the shallots add the chopped chicken (you can roast the chicken ahead of time using the bones, celery, onions, carrots and cover with water to create chicken stock. Or you could just buy a roast chicken at the grocery store).
Now add the sherry, cognac and chicken stock. Let reduce, then add the heavy cream and tarragon, continue to cook for 20 minutes on low heat, and season to taste.
Combine the oil or butter and flour in a small saucepan. Cook over low heat for a couple of minutes to get rid of the floury taste.
This will be the thickening agent for the soup. When the soup reaches the desired thickness remove from the heat and add the sour cream.
Get Winter Soup Recipes> Find Restaurants Serving Winter Soup>