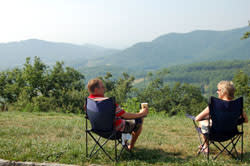 As consumers seek inexpensive ways to exercise their right for some much needed R&R this spring and summer, Asheville has launched CoolAshevilleSavings.com. Named one of the world's must-see destinations by Frommer's and recently ranked a top 10 value destination for couples in search of romance (D.K. Shifflet & Associates), Asheville is a world-class destination that's not real expensive.
CoolAshevilleSavings.com helps budget-conscious travelers maximize value and stretch their vacation dollars when planning a cool escape to the Blue Ridge Mountains this spring and summer:
Asheville's Top 10 Free Things to Do
Explore a National Park – This year marks the 75th Anniversary of the Great Smoky Mountains National Park, the most visited park in the national park system. The Smokies are a nearby natural wonder and always free to explore.
Have a Play Date – Take in Asheville's best outdoor theatre with the Montford Park Players. Each summer, North Carolina's longest-running outdoor theatre troupe puts on amazing performances of Shakespearean plays for free on Friday, Saturday and Sunday nights.
Watch Working Artists – Looking is free. Explore the River Arts District, an old industrial district transformed by a community of working artists into an enclave for creativity.
Grab a Bike – Tucked away in the Blue Ridge Mountains, Asheville has all the elements that make for great cycling – a mild climate, a wide range of terrain and many scenic roads. Bring your own bike or stop by one of Asheville's many bike shops to rent some wheels.
Dance, Dance, Dance – Asheville has long been known for its independent eateries and pubs that transition to live music venues at night. The rhythmically inclined will want to head to downtown's Pritchard Park for the Asheville Drum Circle on spring and summer's cool Friday evenings.
Revel in Mountain Views – Soak in the famous and free vistas of the Blue Ridge Mountains. Take a drive up Town Mountain near the historic Grove Park Inn Resort & Spa or cruise America's favorite scenic highway, the Blue Ridge Parkway.
Cool Off at a Waterfall – The hundreds of waterfalls in the mountains surrounding Asheville are part of what make the region one of the most beautiful in the world.
Tempt Taste Buds at the Tailgate – Stop by one of Asheville's many tailgate and farmers' markets, known for free samples of local flavors and farm-fresh treats.
Do the Time Warp – Embark on a self-guided tour of the Asheville Urban Trail. City streets serve as an art and history museum without walls, where pieces of art tell the story.
Get Festive – Spring and summer in Asheville are synonymous with free festivals, ranging from music to arts to mountain sports.
Free Festivals
About
Only one tank of gas away from most eastern U.S. cities and a haven for adventurous souls, Asheville is naturally a budget-friendly destination and perfectly positioned to reinvigorate the spirit.
Media Contact
Dodie Stephens, Asheville Convention & Visitors Bureau
828.257.4959 | dstephens@exploreasheville.com | @AshevilleTravel