With growing popularity of destination weddings, many couples are bypassing the beach ceremony fad for a stateside city that has been quietly drawing the nation's jet set since the late 1800s. Asheville's Blue Ridge Mountain backdrop has inspired brides from modern bohemians to real American princess Cornelia Vanderbilt, daughter of George W. Vanderbilt.
Wedded Bliss in the Happiest City in America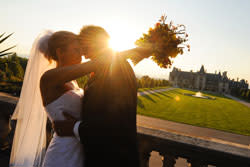 Centrally located and surrounded by the highest mountains in the east, Asheville is an accessible city with a world class reputation. Some say it's the mountain air that draws people here or the blend of artistic culture, history and Southern charm...some even claim it's cosmic energy. Whatever the reason, praise for Asheville includes themes of romance, happiness and adventure. ABC's 20/20 featured Asheville as the happiest city in America based on the New York Times best-selling travelogue Geography of Bliss. Asheville was also named a top 10 value destination for couples in search of romance (D.K. Shifflet & Associates, 2009).
Free Wedding Planning Advice
Couples often do not realize there are free wedding services available through the local tourism office. Asheville Convention & Visitors Bureau offers area insight and advice, helping brides find the perfect venue, local vendors and guest accommodations that fit the wedding budget.
Asheville By the Brides
Classic Princess: Arriving by horse-drawn carriage, this bride may take her vows at the foot of a real 250-room American castle before a candlelit champagne-cellar reception.
Bohemian: Sampling local craft beer for a twist on her "champagne toast," this Asheville bride decides between a reception at a rock club featured by Rolling Stone or an urban affair in one of the city's Art Deco gems.
Sexy Tomboy: An adventurous spirit, this tomboy bride throws her wildflower bouquet from a hot air balloon or hitches up her white dress to scale a mountain for a wedding photo with 360-degree views.
Farm-to-Table Foodie: This bride appreciates slow food and loves that her artisan cheeses and pan-seared mountain trout came from local farms. She selects a local wine to compliment organic cupcakes topped with edible flowers.
Eco-Chic: Surrounded by gorgeous fall color, this green bride arrives at her LEED-certified hotel by bio-diesel fueled bus and her hemp silk gown is an original local design. Her guests leave with organic chocolate truffles and sourwood honey in nature-based boxes.
Media Resources