Creamy Portobello Mushroom Soup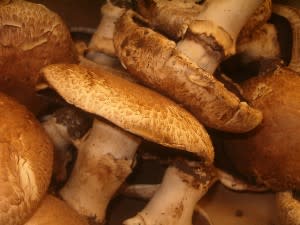 from Chef Charlie Widner of Tomato Jam Cafe

Ingredients:
4 tablespoons butter/olive oil
1 pound portabella mushrooms, gills removed and large dice (1" dice)
1 teaspoon minced garlic
1 teaspoon chopped fresh thyme leaves
1 teaspoon chopped fresh chives
3 cups vegetable stock
3 cups 2% organic milk or soy milk
Salt and pepper to taste
Instructions:
In a large saucepan over medium heat, melt the butter and olive oil, and then add the trimmed diced portabellas, the minced garlic and the thyme. Sauté until the portabellas begin to caramelize and release their juices, about 10 minutes.
Add the stock and increase the temperature to bring to a boil, then reduce heat and simmer for 15 minutes. Add the milk and simmer another 3 minutes; season with salt and pepper to taste.
Puree batches of the soup in a food processor, processing until smooth and all the soup has been made creamy. Return soup to sauce pan and heat through.
Garnish the serving with fresh thyme leaves, and enjoy!
Get Winter Soup Recipes> Find Restaurants Serving Winter Soup>