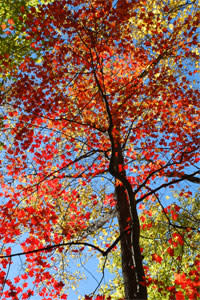 In the tricky business that is forecasting the whims of Mother Nature, it is rare that experts agree as they make fall color predictions. This year, biologists and naturalists in Western North Carolina and the Asheville area are singing the same tune:  Seasonal weather patterns and early climate indicators may trigger the most colorful leaf season in years.
Good News for Colorful Fall Vacations
As the last week of summer arrives, travelers can look to fall foliage experts to learn what is in store for autumn travel in 2010:
Expert Forecast Quotes
"A long spell of dry weather during the spring and summer could provide some of the most brilliant colors seen in several years for leaf-lookers headed to the mountains of Western North Carolina this autumn," reported Katherine Mathews, Western Carolina University's assistant professor of biology specializing in plant systematics.
"While there were periods of low rainfall with some higher than normal temperatures, the mountains around Asheville have had plenty of rain toward the end of the summer. With cooler, clear weather moving in this September, fall seems to be setting up nicely," said Parker Andes, director of horticulture at Biltmore in Asheville.
"A few weeks ago the weather transitioned to clear, sunny days–the ideal combination for a really beautiful fall," said Dr. Howie Neufeld, professor of plant physiology at Appalachian State University.
"When people remember a good color season, it is usually because they got those brilliant reds contrasting against the rest of the fall color spectrum. The bi-product of photosynthesis is sugar, and sugar triggers red pigment production. So, these bright sunny days we're seeing will build up that intense red pigment in the leaves. We're on course for a colorful fall season," continued Dr. Neufeld.
Fall Color Wars: Scientifically Substantiated Bias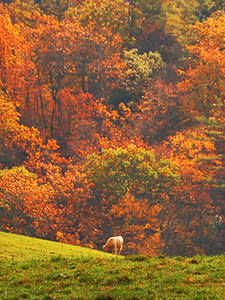 Extreme elevation variations and biologically diverse microclimates combine to give the Southern Appalachian Mountains one of the longest and most colorful leaf seasons in the country. Regional experts weigh-in on who has the best fall color: 
"New England's color comes primarily from birch, beech and maple–a beautiful, bright autumn display with big blotches of color. But, the South has more than 100 species of deciduous trees. The combination of topography and color diversity here can make our fall colors spectacular. Out West you see more evergreens and yellow, but you don't get a lot of that vibrant red that makes up the eastern fall patchwork. I've lived in the Northeast and the West, and I think North Carolina has some of the best fall color in the country," said Dr. Neufeld.
"The mountains of Western NC have the most forest diversity of anywhere in the country, which gives us a uniquely broad range of fall color and a longer season. From the yellows of cucumber magnolias around Balsam Mountain to the burgundy of black gums along the Davidson River, there is a rainbow of colors to be seen here. And, because of the different altitudes, microclimates and mild weather, visitors can always find good color and lots of activities throughout the region," said Andes.
Timing Your Fall Vacation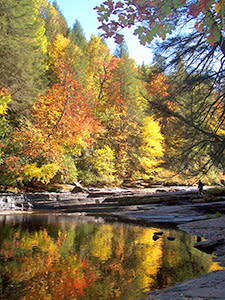 "We're already starting to see signs of color at the highest elevations here at the end of September. Our American ash trees are beginning to tinge with purple and the bright red berries on the mountain ashe are putting on a good show. Leaf peepers should look for high elevation habitats to color-up first, such as heath balds on mountain ridges," said Jesse Pope, chief naturalist at Grandfather Mountain.
"I'm very optimistic about the intensity of color we could see this year. However, the duration and timing of fall greatly depends on these last couple of weeks in September. Rapid changes in temperature could start the color action early, and we want to avoid wind events that would stress and prematurely down the leaves," continued Pope.
Weekly Fall Color Reports
To help visitors locate where the autumn color is peaking from week-to-week, the Asheville Convention & Visitors Bureau is working with park officials, attractions and biologists around the region to compile weekly fall color reports for the mountains of Western North Carolina at FallintheMountains.com. Asheville's fall color experts will also be tweeting up-to-the-minute color updates, travel tips and deals at @FallColorHunter on Twitter.
About
Located along the Blue Ridge Parkway–celebrating its 75th anniversary in 2010–and just outside Great Smoky Mountains National Park, the Asheville area is steeped in natural history and full of fall adventure. With elevations that range from 1,500 feet in the valleys to 6,684 feet at Mount Mitchell (the highest peak east of the Mississippi River), the Blue Ridge Mountains are a fall leaf kaleidoscope from late September through early November. FallintheMountains.com
Online Resources
Multimedia