Asheville rocks North Carolina Beer Month with music video, vacation giveaway
Quick Links: Video | Contest | Brew News | Images
Media Contact:
High-Res Photos:
More Info:
ASHEVILLE, N.C. (Apr. 9, 2013) - Consumers continue to lift their glasses to all things beer, and destinations like Asheville – aka "Beer City USA" are tapping into the trend. Craft beer sales jumped 15 percent in 2012, and more than 400 new craft breweries opened nationwide, offering thirsty travelers myriad ways to add local flavor to their vacation plans via tasting rooms and tours.
In the Blue Ridge Mountains of Western North Carolina, beer lovers travel from far and wide to experience the dozen microbreweries that brought Asheville the title of "Beer City USA." As a part of the inaugural North Carolina Beer Month, one creative fan will name a new Asheville brew and win a vacation prize package. Area brewers and beer enthusiasts are also making merry with tours, events and special craft beer releases. A full calendar of events and list of Asheville breweries is available at http://www.exploreasheville.com/beer/.
Hip Hops! Music Video Release & Beer-Naming Contest
To celebrate the joy and variety of the Asheville beer scene, the folks at ExploreAsheville.com teamed up with local sketch comedy troupe the Feral Chihuahuas to create a song and music video showcasing the people and places that make Beer City USA the destination it is. Watch the video to join in on the party.
Embed this video on your site.
Beer City Video
---
Back to Top
Vacation Giveaway
Hop heads can also get in on the festivities by helping to name an Asheville beer. The 10 most creative names will be selected as finalists and then voted on by Asheville's fans. The winner will receive a grand prize getaway to Asheville, plus a six-pack with the winning name and the winner's face on the label! Details and an entry form are available here.
---
Back to Top
8 Fresh Reasons to Explore the Asheville Beer Scene
Brew Kids on the Block: In addition to big-time brewers New Belgium and Sierra Nevada, who will be opening East Coast locations in the area in the next two years, Asheville is anticipating the opening of at least five new breweries in 2013.
Hop Infusion Bar: At Asheville Brewing Company, fans of the floral flavors that hops give to beer can now experiment with dry-hopping their own pints. Choose from a selection of hop varieties and drop in the infuser to create your own special blend.
Backstage Pass to Beer City: Local beer expert Anne Fitten Glenn takes readers on a behind-the-scenes tour in her new book Asheville Beer: An Intoxicating History of Mountain Brewing. In addition to the history of booze in Western N.C. and profiles of the movers and shakers in today's brewing community, the book also makes a great guidebook, leading readers to the best breweries, bars and boutiques in the area.
New Ways to Sip & Stroll: Asheville Brewery Tours offers both walking and mobile tours (designated driver included!) to introduce visitors to a variety of WNC breweries, including Brevard-based Oskar Blues. The tour joins the Asheville Brews Cruise and the 5K Asheville Beer Run as a fun, active way to taste your way through Beer City.
Hop-tail Hour: Asheville's newest brewpub, Wicked Weed Brewing, offers a menu of beer cocktails, including the Pale Mary, which mixes house-brewed ale with vodka and bloody mary mix, or the Belgian Collins, a piquant concoction of Belgian ale, gin and sour mix.
Souvenir Suds: Asheville's second-oldest brewery has popped the cap on a new venture to bottle three of their most popular varieties. The porter, India pale ale and extra special bitter varieties from Green Man Brewing are now available in 12-ounce bottles (topped with snazzy logo caps) at the brewery and at area grocery and specialty stores.
Libation Celebrations: The second annual Best Firkin Beer Festival celebrates the old-school tradition of cask-conditioned ales on Saturday, April 27, with 34 participating breweries, old-time music and food. The festival is one of six annual beer celebrations in Asheville—the next one is the Beer City Festival set for June 1.
Boozy Chocolate: Beer-sippers with a sweet tooth will appreciate the Porter Nib Caramel from French Broad Chocolate Lounge. Covered in dark chocolate and cacao nibs, the caramel is made with local beer and features a malty flavor.
---
Back to Top
Images
Images are for news editorial use only. Any commercial or personal use is strictly prohibited. Please credit any images you use to ExploreAsheville.com.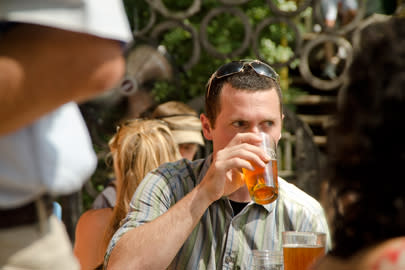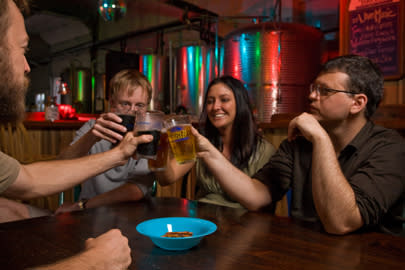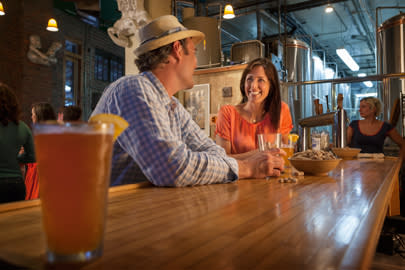 ###