Apricot Ginger Sc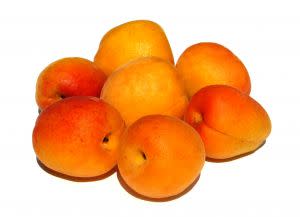 ones from The Princess Anne Hotel
Ingredients

2 cups flour
3 tablespoons sugar
1 tablespoon baking powder
½ teaspoon salt
4 tablespoons unsalted butter, cut into cubes
¾ cup heavy cream
1 egg
¾ cup diced dried apricots
½ cup chopped crystallized ginger
Preparation
Preheat oven to 450 degrees.
Combine flour, sugar, baking powder and salt in food processor, and then process with a few quick pulses. Add butter and process until it resembles coarse meal, about 12 quick pulses.
Transfer dough to a large bowl. Add ginger and apricots, toss to combine. Combine egg and cream together. Gently stir into flour mixture until dough begins to form.
Transfer to a floured work surface. Knead dough by hand until it comes together, put into ¾-inch squares.
Cut dough into three triangles or other desired shape.
Bake for 15 minutes, or until lightly browned on top. Enjoy warm or at room temperature.
Makes eight scones.