Asheville's Secret Gardens & Storybook Blooms
Quick Links: Timelapse Video | Weekly Bloom Report | 8 Amazing Gardens | Packages & Deals | Images
Media Contact:
Dodie Stephens
828.257.4959
High-Res Photos:
Embed our timelapse video:
More Info:
ASHEVILLE, N.C. (March 19, 2013) — Spring: The color season no one talks about. Colors are beginning to dot the landscape near Asheville, as the first day of spring arrives. The majestic Blue Ridge Mountains make headlines each autumn, but the lore of a lush Appalachian spring has long been a fount of inspiration for artists, authors and savvy travelers. This spring, travelers can look to expert advice for vacation ideas and colorful recommendations as some of the oldest mountains in the world unveil their unmatched biodiversity, petal by petal.
Timelapse Video
---
NEW! Weekly Spring Bloom Report
Each week, the tourism office will work with naturalists and attractions around the region to compile tips and adventures in bloom at http://www.ExploreAsheville.com/seasonal-fun/spring. Find out which spring flower hikes have early spring wildflowers, choose a color-filled spring flower drive just as the flame azaleas begin to pop, or book a travel package to view a royal array of red tulips as Biltmore Blooms with a festival of flowers.
Back to Top
---
8 Amazing Secret (and not-so-secret) Gardens in Asheville
Asheville's green love affair began in the late 19th century when George W. Vanderbilt hired Frederick Law Olmsted, the father of modern American landscape architecture, to oversee design of his great estate, Biltmore. Olmsted's landscape feat was equivalent in scale and vision to Vanderbilt's castle, America's largest home. Beyond the verdant grounds of Biltmore Estate, mountain horticulture traditions and Asheville's artistic verve nurture an array of garden experiences, some well-known and some…not so much.
Quilt Garden at the North Carolina Arboretum — an Appalachian point of pride takes garden form
Biltmore Shrub Garden — a veil of purple wisteria crowns a meandering path to the famed Walled Garden
Gentling Garden — a 15-acre private garden that you have to see to believe, appointments only
Botanical Gardens — a 10-acre wood enclave in central Asheville with 600 native wildflower species
Curve Studios Garden in the River Arts District — a formal garden with artistic flare and an industrial edge
Bonsai Exhibit at the NC Arboretum — tiny trees that mimic the spring glory of their forest cousins
Zen Garden in The Spa at Grove Park Inn — rake away your cares in this subterranean rock garden
Craggy Gardens along the Blue Ridge Parkway — dark pink rhododendron crown craggy balds in this scenic wild garden
Click here for more spring garden and travel inspiration.
Back to Top
---
Mountain Vacation Deals & Spring Travel Packages
Back to Top
---
Images
Images are for news editorial use only. Any commercial or personal use is strictly prohibited. Please credit any images you use to ExploreAsheville.com.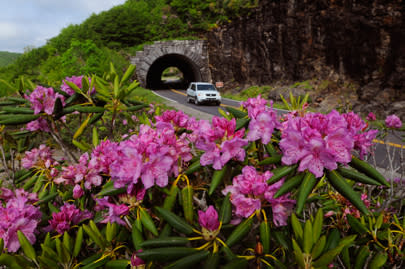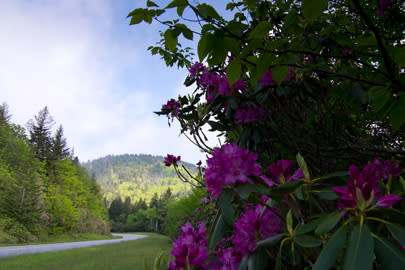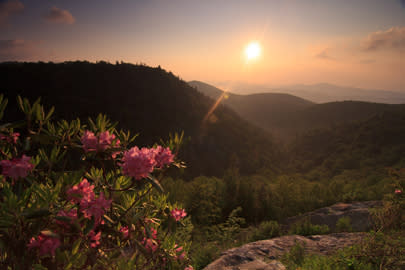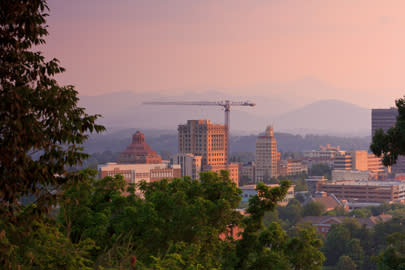 ###